Grab these cute January coloring pages for kids that you can easily download and print for free.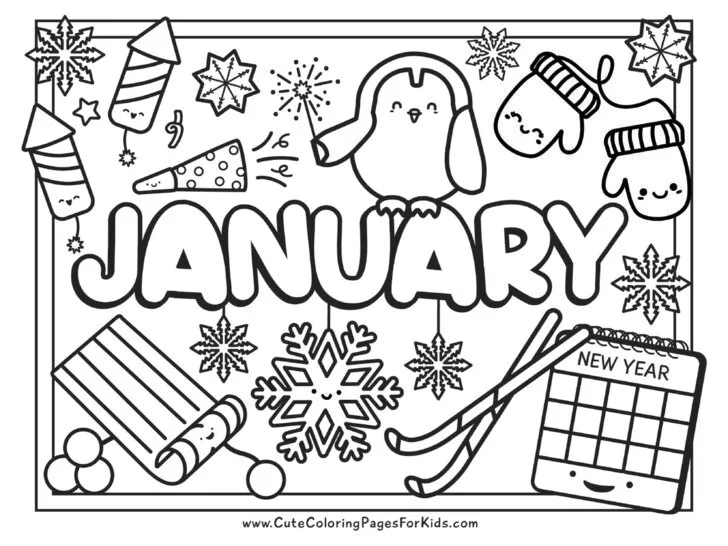 Welcome to January! It's a new year, and we have a new set of coloring sheets for the month.
Now all of the holiday hustle and bustle has past and we can settle back into the everyday rhythms of day-to-day life. Are you breathing a sigh of relief? Or are you wishing you could hold on to a few more days holiday cheer?
If you're ready for a little bit of calm, print out these adorable coloring sheets that celebrate the month of January!
From sledding to snowfall, and icy cold days, there's a lot of fun to be had and a LOT of snuggling up to stay warm! So grab your crayons and stay toasty with some moments of calming coloring sheets.
Printable January Coloring Pages
We have four different free printable coloring pages for January, so even if you have some different age groups I know you'll find something for everyone!
Terms of Use: Print as many copies as you need for your kids, your students, your after school group, campers, church group, etc. To share, please send a link to this page. Please do not sell them, email them, share copies online, or distribute them in any way for any other purpose. Thanks!
Simple January Coloring Sheets
These first printable January coloring pages are super cute, and pretty simple, with just a few elements that are all about January fun. Kids will love coloring the cute winter jackets and mittens, an ice skating snowman, and items to celebrate the new year!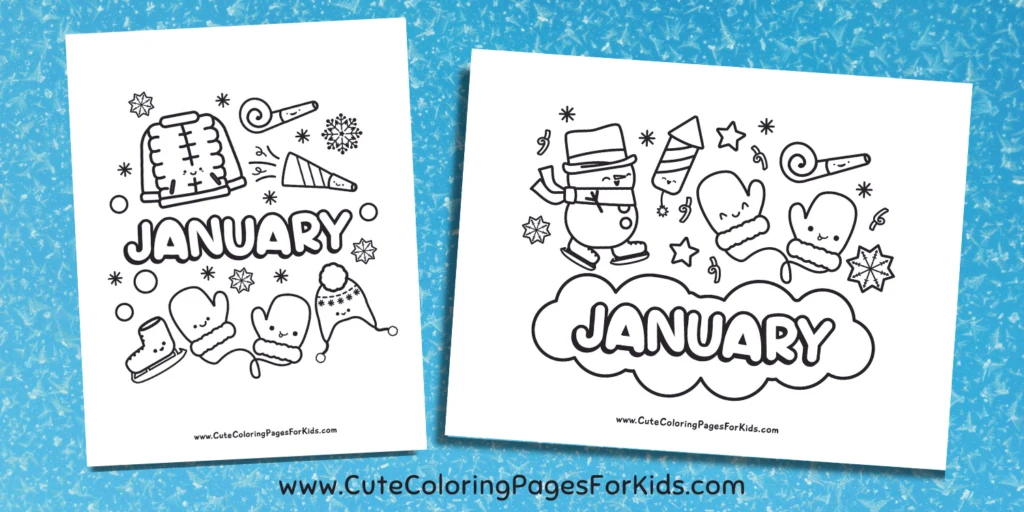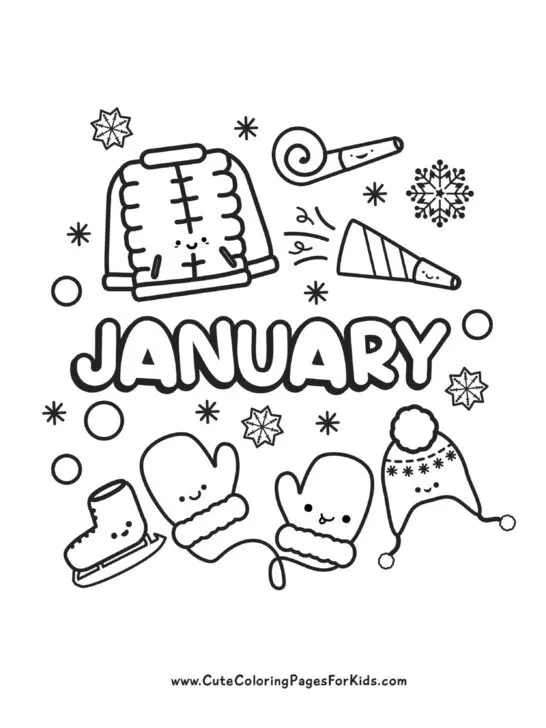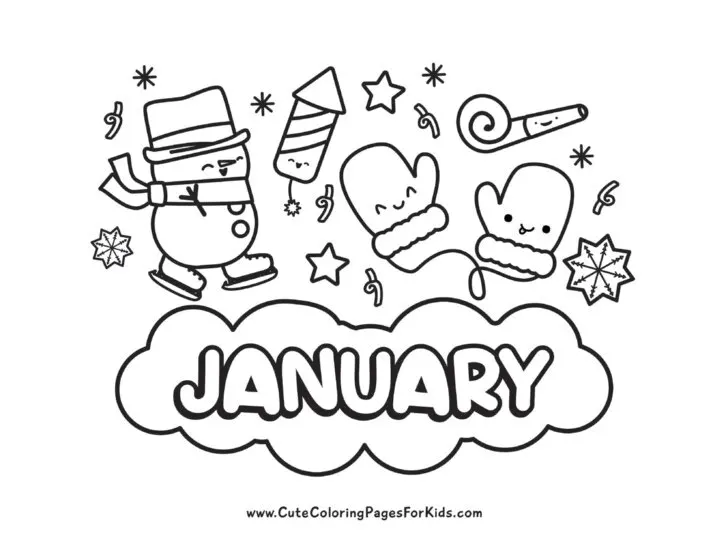 More January Coloring
We filled these final two coloring pages full of January fun and the excitement of the new year! As you can see, the sheets below are packed, so there's a lot more coloring going. We love being able to offer a variety of different coloring sheets so that you can pick the best ones for your needs.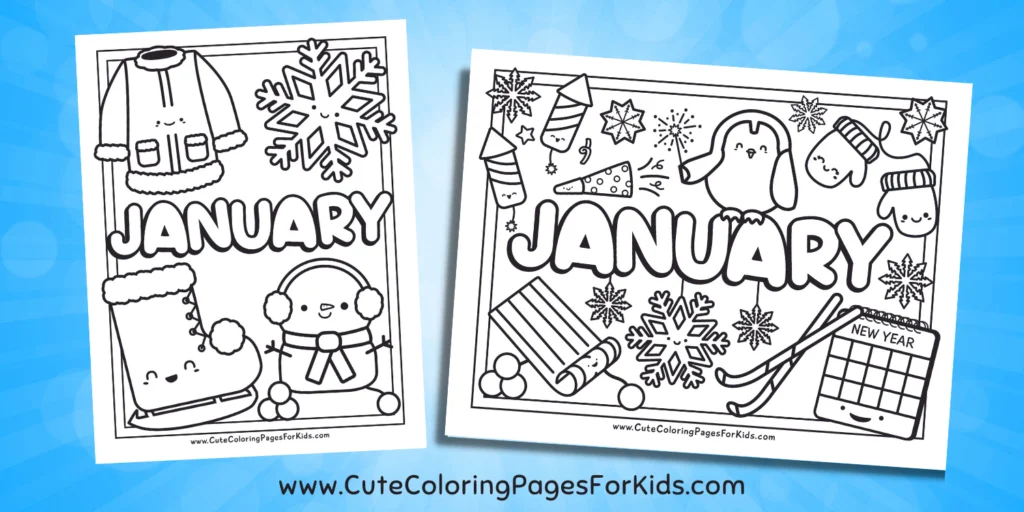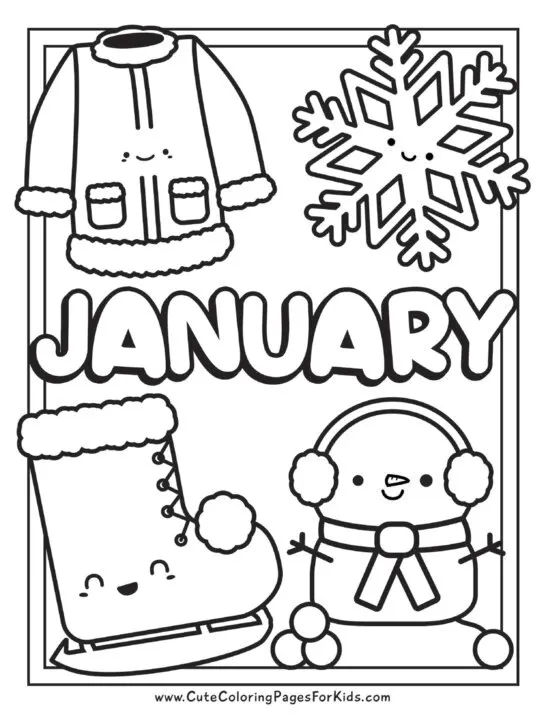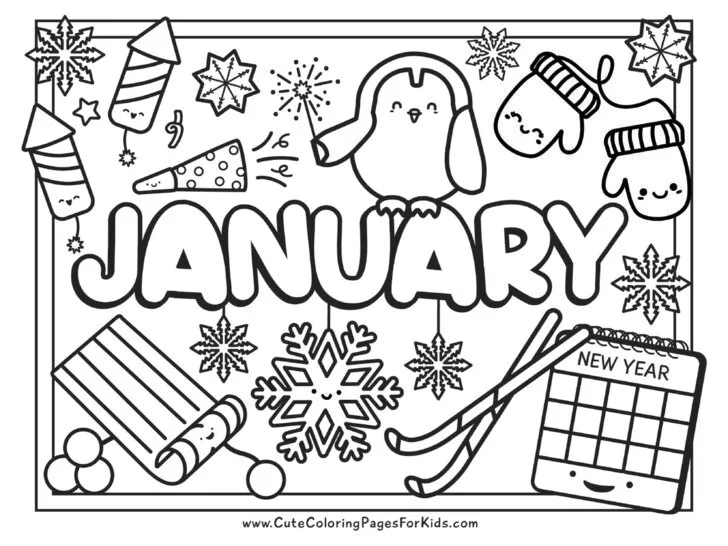 Why we love making coloring pages for kids:
Coloring is a low-cost activity that is fun, calming, and full enrichment benefits!
Just think, while you're enjoying some creative quiet time with your kids, they're building fine motor skills and developing their attention and focus. They're exploring their creativity. And finally, they're engaging in an activity that is potentially anxiety-reducing (Mindfulness studies have shown that coloring can reduce anxiety in children).
We love helping parents and caregivers by creating these fun and enriching activities for kids.
Now – grab your colored pencils, markers, or crayons, embrace the spirit of January, and get creative with these free printable coloring sheets!