Grab some cute printable Halloween coloring pages to share with the kids! We have 12 free printable coloring sheets that are perfect for this fun and spooky season.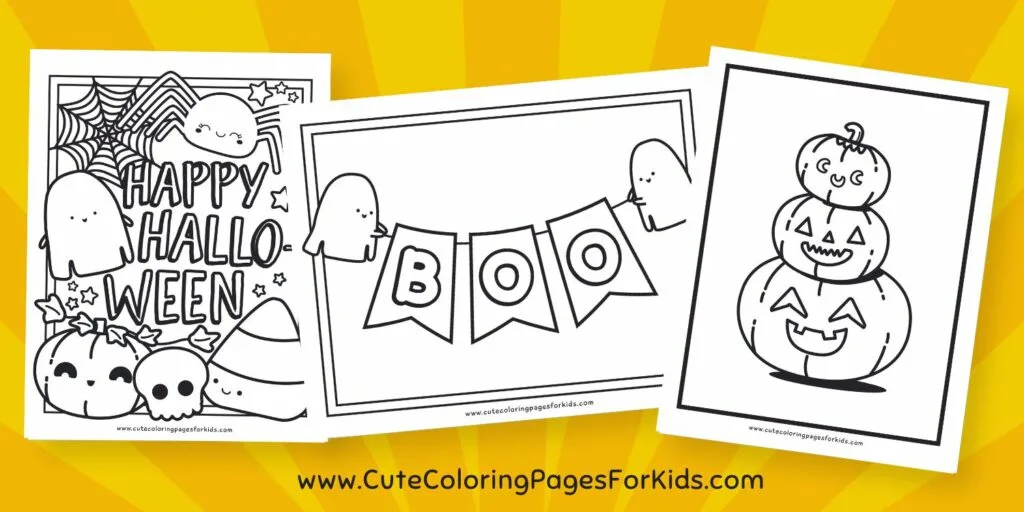 Hello coloring friends!
We are in the midst of some unseasonably cool August temperatures, and it has me thinking all about fall – especially Halloween.
We all know how much fun Halloween is, so I figured it wouldn't hurt to go ahead and get a jump on creating some fun Halloween printables you can share with your kiddos.
Here are nine adorable Halloween coloring sheets that I made for you and I hope you enjoy them as much as I enjoyed creating them.
Cute Halloween Coloring Pages
Below are all of the coloring pages I've made for Halloween. You can easily click the download button under each coloring sheet to grab just the ones you want. Or, you can scroll to the bottom of the post to find out how to get the entire set of coloring pages in one download.
Terms of Use: Print as many copies as you need for your kids, your students, your after school group, campers, church group, etc. To share, please use a link to this page. Please do not sell, email, share digital copies online, or distribute them in any way for any other purpose. Thanks!
1. Happy Halloween Coloring Page
All the Halloween cuties are here to wish you a "Happy Halloween"! This coloring sheet has more details in it, which makes it great for older kids who can focus longer.
---
2. Cute Ghosts Coloring Page
My little one pointed out that these are either tiny ghosts or one very large candy corn! Haha…Either way it's always fun to share and these little ghostie friends make me smile.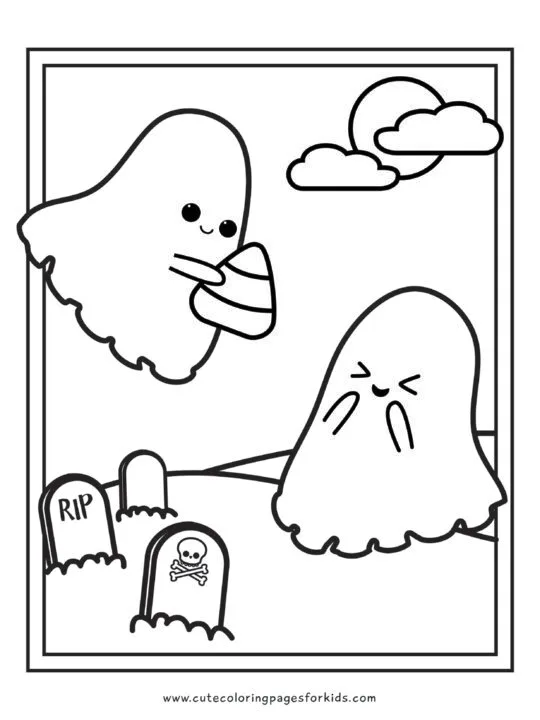 ---
3. Trick or Treat Coloring Page
We love seeing the big blow-up dinosaur costumes out trick-or-treating! These fella is on the move and ready to fill his bucket with sweets.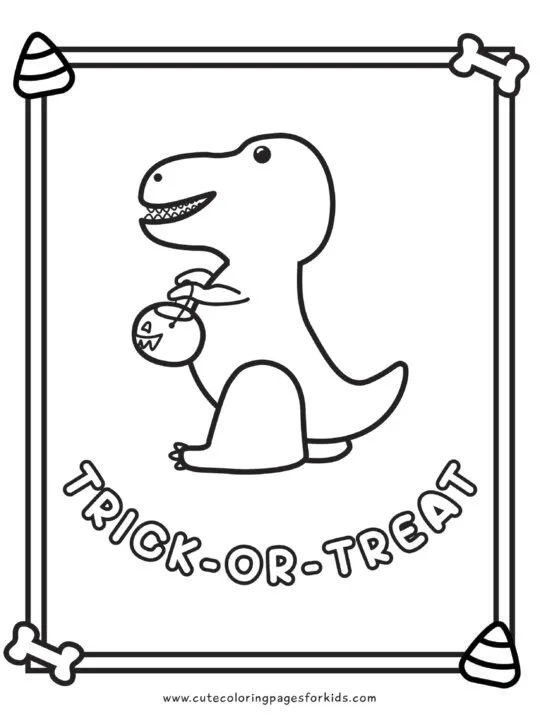 ---
4. Halloween Frog and Kitty Coloring Page
These Halloween friends are practicing some new spells!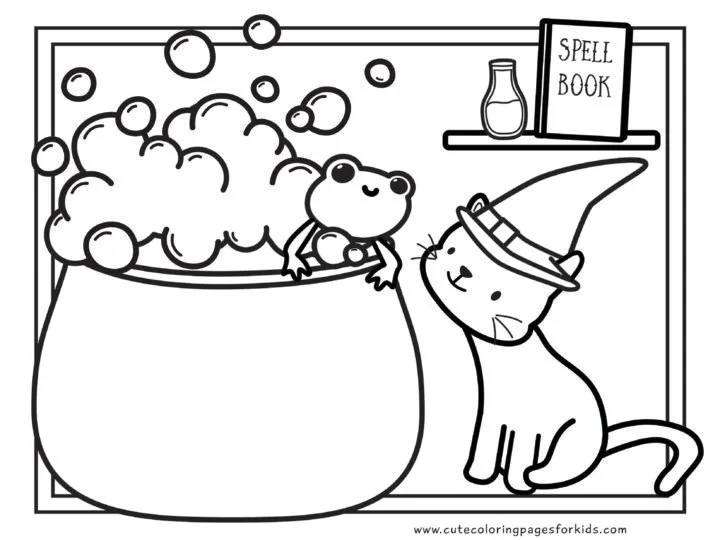 ---
5. Beware Sign Coloring Page
Kiddos might want to keep this coloring sheet to hang on their door!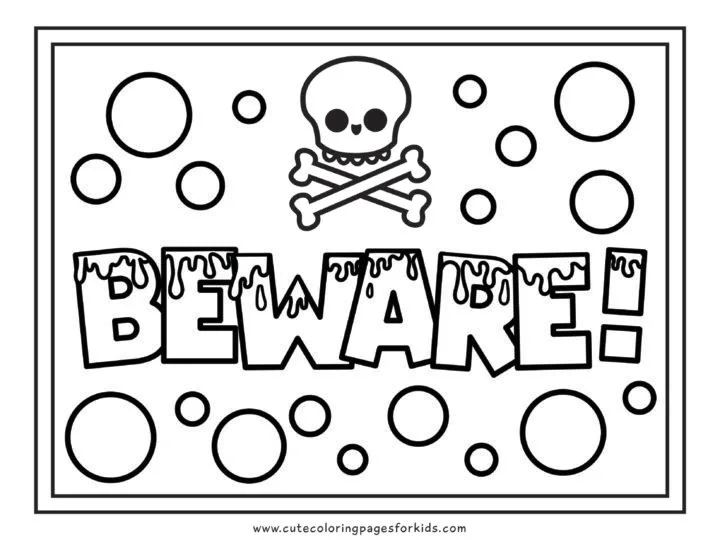 ---
6. Halloween Scene Coloring Sheet
Ready for Halloween night?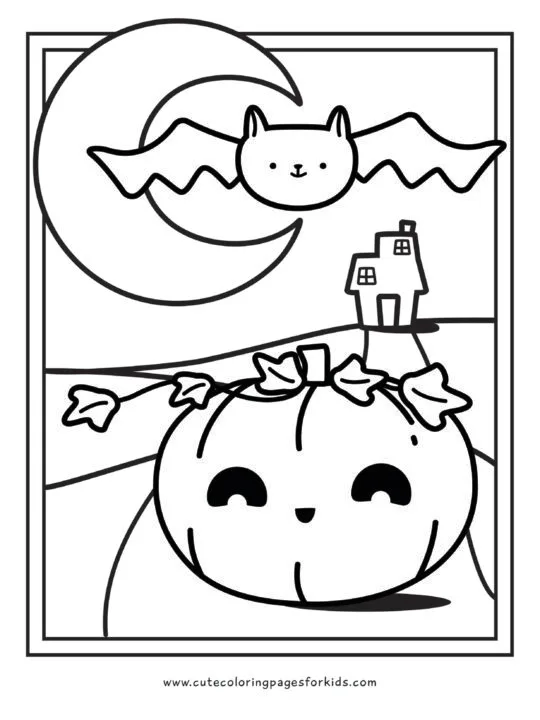 ---
7. Vampire Kitty
This cute vampire kitty is too sweet to be scary. We'll let him try anyway. 🙂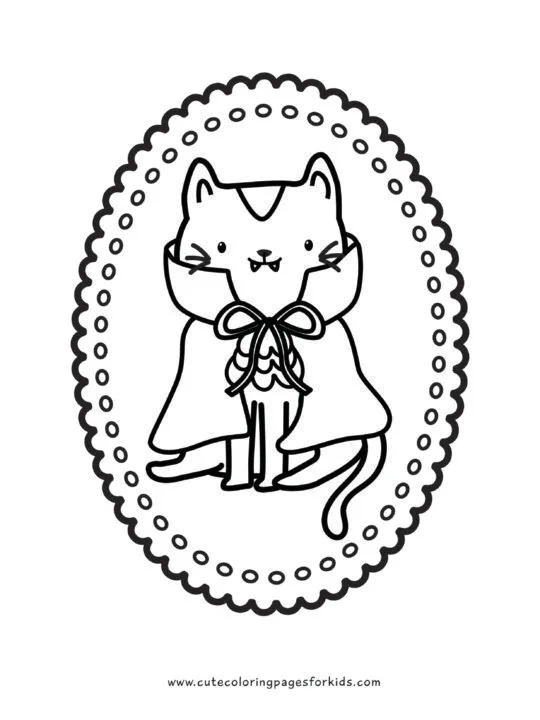 ---
8. Cute Halloween Jack-O-Lanterns
Here's a cute little family of jack-o-lanterns. This is one of the easier coloring pages that are great for the younger folks in your crew.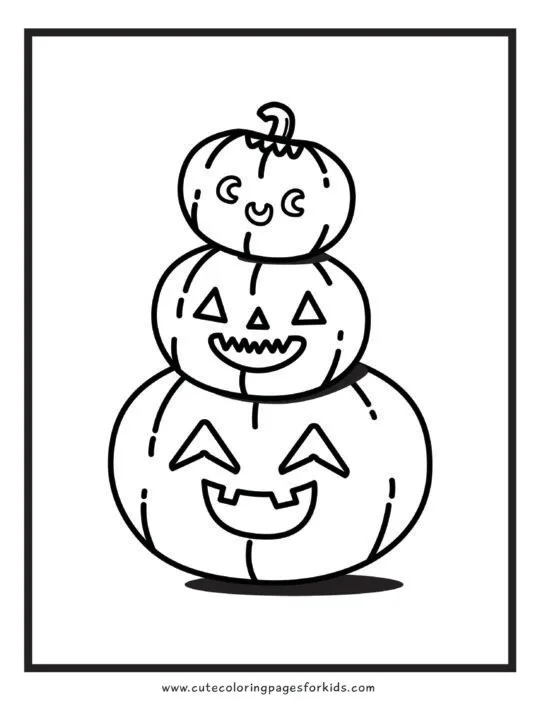 ---
9. BOO Coloring Page
Have you been "booed" in your neighborhood? Print off some of these BOO coloring pages to put in a treat basket to share with friends!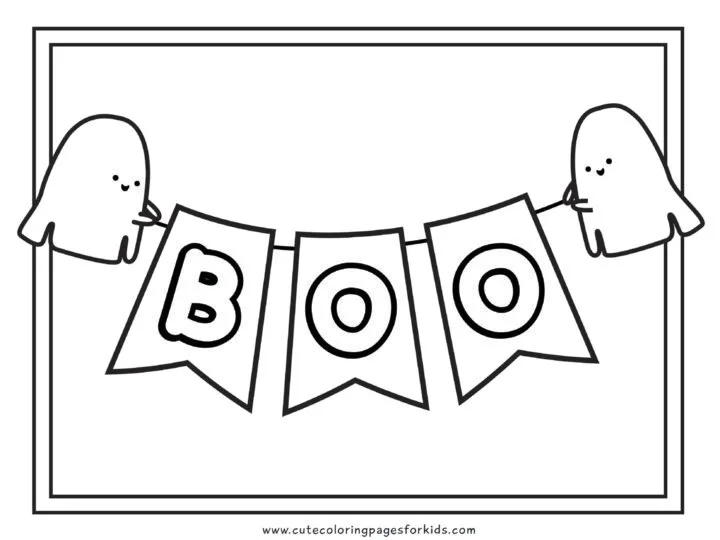 ---
New this year! We're adding more Halloween coloring fun.
Continue reading to see what's new for 2023 and check back often for updates!
10. Cute Halloween Bat and Friends Coloring Sheet
Here's a whole group of cute Halloween friends wishing you a Happy Halloween!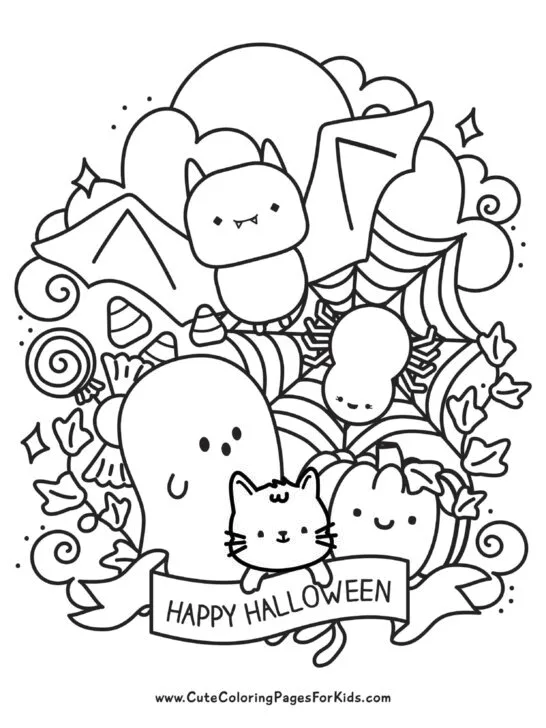 ---
11. Franken-Kitty Coloring Page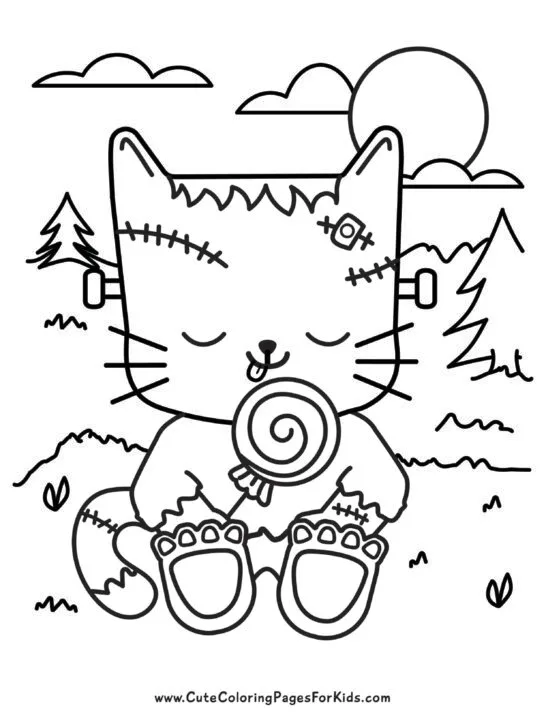 ---
12. Trick Or Treat Kitty Coloring Sheet
Here's another Halloween kitty to color! This little guy has been out trick-or-treating and has a whole bag of candy to show for it!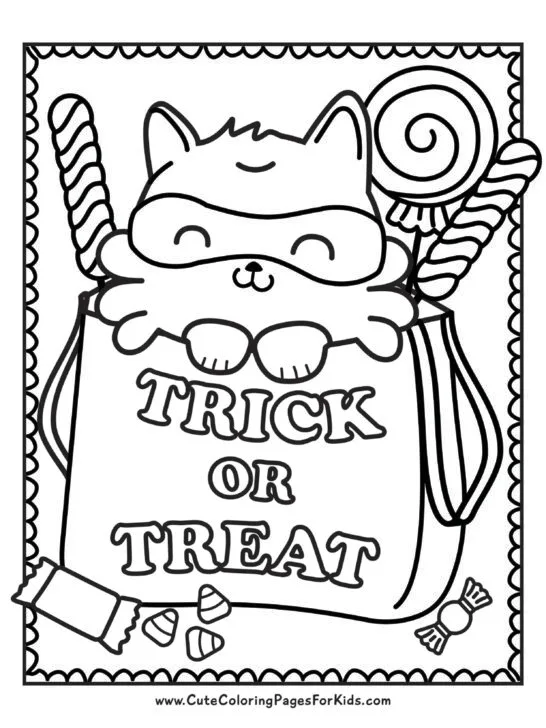 The Halloween Coloring Pages Free Printable Pack
Think your kiddos would love all of these? You can get the entire pack with just one printable PDF download below (this download contains the original coloring sheet set and does not currently include coloring sheets that were added in 2023):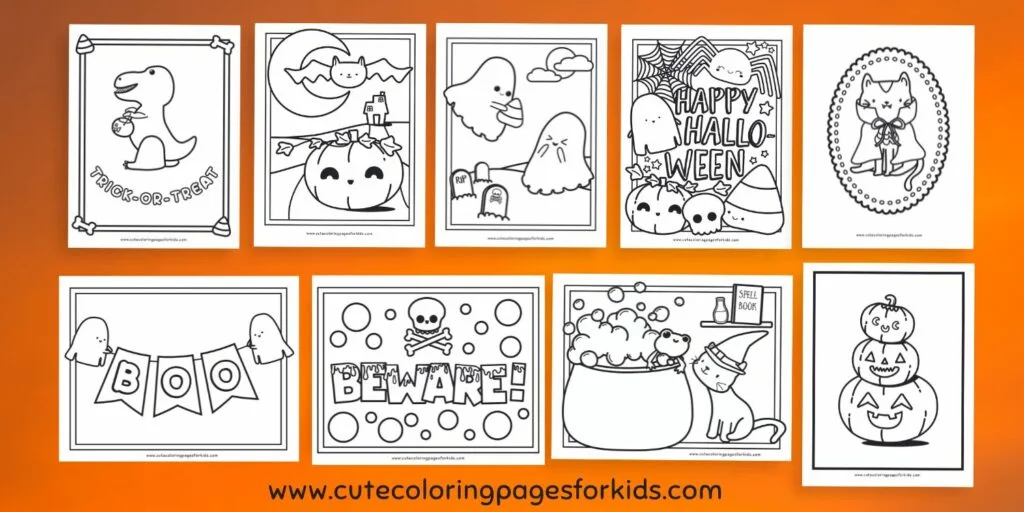 More Halloween Printables for Kids
Before you go, be sure to check out our other cute Halloween activities for kids: